Every month nearly 120,000 MHE pre-shift safety checks are carried out using SG World's inspection checklist solutions. Our products already play their part in keeping MHE such as forklifts, pallet trucks and pickers safe and sound throughout their whole working life. It's only natural that as well as supporting the people who operate MHE, we also work with the people who design and build MHE - companies such as Genie, global manufacturer of lifting and material handling equipment.
Genie® began in 1966 with the introduction of the Genie® Hoist, a portable, pneumatic material lift. Today, as a subsidiary of Terex Corporation, Genie remain at the forefront of innovation and quality production. From Denver to Dubai and Hong Kong to Helsinki, customers ask for their distinctive blue lifts on the jobsite because of their uncompromising service and support.
Mr Brian King, the Genie European HSE Manager, had seen SG World's products in operation at Terex sites in the UK and made a recommendation that the Grantham site got in touch to look at the range. Angie Kellaher, Site Manager covering Pre-Delivery Inspection at South Witham, invited Alysha Bradley, SG World Sales Executive, to come on site.
"We looked at all of our current processes and systems to see if they could be improved with a solution from SG World," recollected Angie. Working together, both companies saw opportunities for pre-shift inspections, Visitor and Contractor management and Permits to Work.
"The people at Genie place a huge value on Health and Safety and we completely share their outlook. We work closely with the Logistics sector and understand any kind of MHE is a powerful piece of machinery capable of wrecking lives and business if used unsafely," said Alysha.
Holding an IOSH qualification, Angie is part of a wider team of Genie H&S professionals working across a global network of company locations. In addition to participating in regular internal H&S forums, Angie also links up with other external H&S professionals to stay current on the latest legislation and working practices. "Whenever we've got two minutes to spare we look at improving our processes," she said.
Genie have a set of corporate Health and Safety procedures driven centrally from the US. However the UK site has the flexibility to augment these corporate guidelines with local measures to belt and brace specific processes.
One of a number of products that has been adopted by Genie is SG World's Fork Lift Truck inspection system. This handy, cheque-sized pad with carbon duplicates allows a series of pre-shift checks to be carried out in line with HSE Guidance L117 and PUWER 1998. Confirmation of these safety checks are verified and stored in the inspection pad.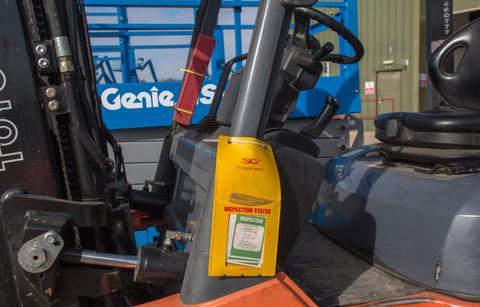 "We used to use A4 paper sheets with a date and a signature every time the Fork Lift Truck was inspected, this was stored in an A4 document wallet on the truck. It was out in the elements and with no protection it used to get soaking wet, sometimes blew away on the yard and was unusable." described Angie.
The SG World Inspection kit includes a safety status indicator housed in a hi-vis weatherproof plastic holder which attaches to the truck, it is sturdy and sealed against the elements. Once the inspection is complete, assuming safety has been established, the inspection certificate can be placed inside a safety status indicator on the truck ensuring that every employee can clearly see that the truck is safe for use. Failing trucks can be similarly identified but handed over for maintenance.
"The SG World system makes so much more sense than our previous way, the hi-vis attachment instantly tells anyone passing if it has been inspected and is safe to use." said Angie.
"This site only has three forklift trucks but the numbers are immaterial, safety is paramount. Some trucks may not get used every day so the way we use the inspection system is one book for all three trucks. We also like the weekly check points in the pad in addition to the daily checks, it's very thorough. The FLT Inspection solution was easy to implement, it's easy to manage and ensures when we have spot checks from management from time to time all the records are to hand for them to see."
The new inspection process was introduced and quickly adopted across site. Let's leave the last word to Marie McGarrigle, one of the forklift drivers who uses the system on a daily basis. "Everything you need is there on the pad, it is really very good. It's simple isn't it!"