What is the thorough examination?
Thorough Examination is the name given to the mandatory inspection legally required to ensure that lifting equipment is in safe working order. It is comparable to a MOT for cars.
The legislation
The Health and Safety Executive (HSE) states:
"Thorough examination of industrial lift trucks is required under health and safety law: LOLER 1998, which covers lifting equipment, and PUWER 1998, which deals with all other safety-related items, such as brakes, steering and tyres. Your regular inspections as part of a preventive maintenance scheme or scheduled service are not a thorough examination.
As such a Thorough Examination needs to cover both the lifting and the driving mechanisms of a lift truck, because not all of them do.
What equipment is covered?
We're going to specifically focus on forklifts but PUWER and LOLER inspections are mandatory on all material handling equipment with a lifting function, including telehandlers, rough terrain vehicles, man-up trucks, reach trucks, demountable trucks and stackers.
Pallet trucks however, fall outside of LOLER because the lift is under 300mm but they will still require inspections in accordance with PUWER.
How often must you have a thorough examination?
All lifting equipment must receive a Thorough Examination at least once a year. However, examinations could be required more often depending on the type of equipment, its use and environment eg: does it have attachments, how many hours is it used per week, is it being used around corrosive materials. The CFTS (Consolidated Fork Truck Services) offer a handy online, interactive guide on how frequent a thorough examination needs to be - https://www.thoroughexamination.org/how-often-is-thorough-examination-required
What must be inspected under LOLER and PUWER?
LOLER (Lifting Operations and Lifting Equipment Regulations 1998)

The Mast
The mast, or telescopic boom on a telehandler, must be inspected throughout its full range of extension and demonstrate a smooth, controlled movement. It should also be inspected for any damage which could impact it's structural integrity.
Chains
Chain failure through wear, elongation and corrosion is gradual and can be difficult to spot. Chains must be measured for wear in at least three places and replaced immediately at 3% wear. The chain anchor points and pulleys must also be checked.
Load Backrest
The load backrest should be inspected to ensure it is structurally sound and securely mounted, otherwise it may cause falling loads. The mounting and soundness of any load backrest extension must also be inspected.
Tilt Mechanism
The tilt movement must be controlled and even with no signs of damage or scoring. The hydraulic cylinders, hoses and piping are also inspected.
Hydraulic Systems
Hydraulic cylinders, reservoirs, hoses and pipes must be inspected and filters checked for debris as sudden loss of pressure can be extremely hazardous. A prolonged load test will ascertain the descent performance.
Attachments and side shifts
Permanently fitted attachments and side shifts are to be checked within the forklift truck's usual Thorough Examination interval. If they are removable, they must be inspected at least twice a year. They must be mounted securely, operate smoothly and evenly throughout their full range of movement, and show no signs of distortion or cracks.
Carriage
The fork arm carrier must be checked for distortion or cracking, along with the mounting and soundness of any load backrest extension
Forks
Fork arms are subject to constant friction and stress, making them particularly vulnerable. They must be of the correct capacity and need to be inspected for signs of wear (meeting ISO 5057), cracks, deformation and splaying. This means the fork location and the end stops are also checked.
Rating Plate
Clearly accessible rating information is critical to the safe operation of any forklift. The capacity data plate displays the capacity rating for the truck and any attachments fitted. They must be securely attached and fully legible. If the forklift truck is equipped with a load capacity indicator, the operator must be able to see the information clearly.
Controls
All controls, cables and linkages must be in full working order and show no signs of damage or corrosion. The Competent Person must also ensure they are securely mounted, and their function is clearly marked.
PUWER- (Provision and Use of Work Equipment Regulations)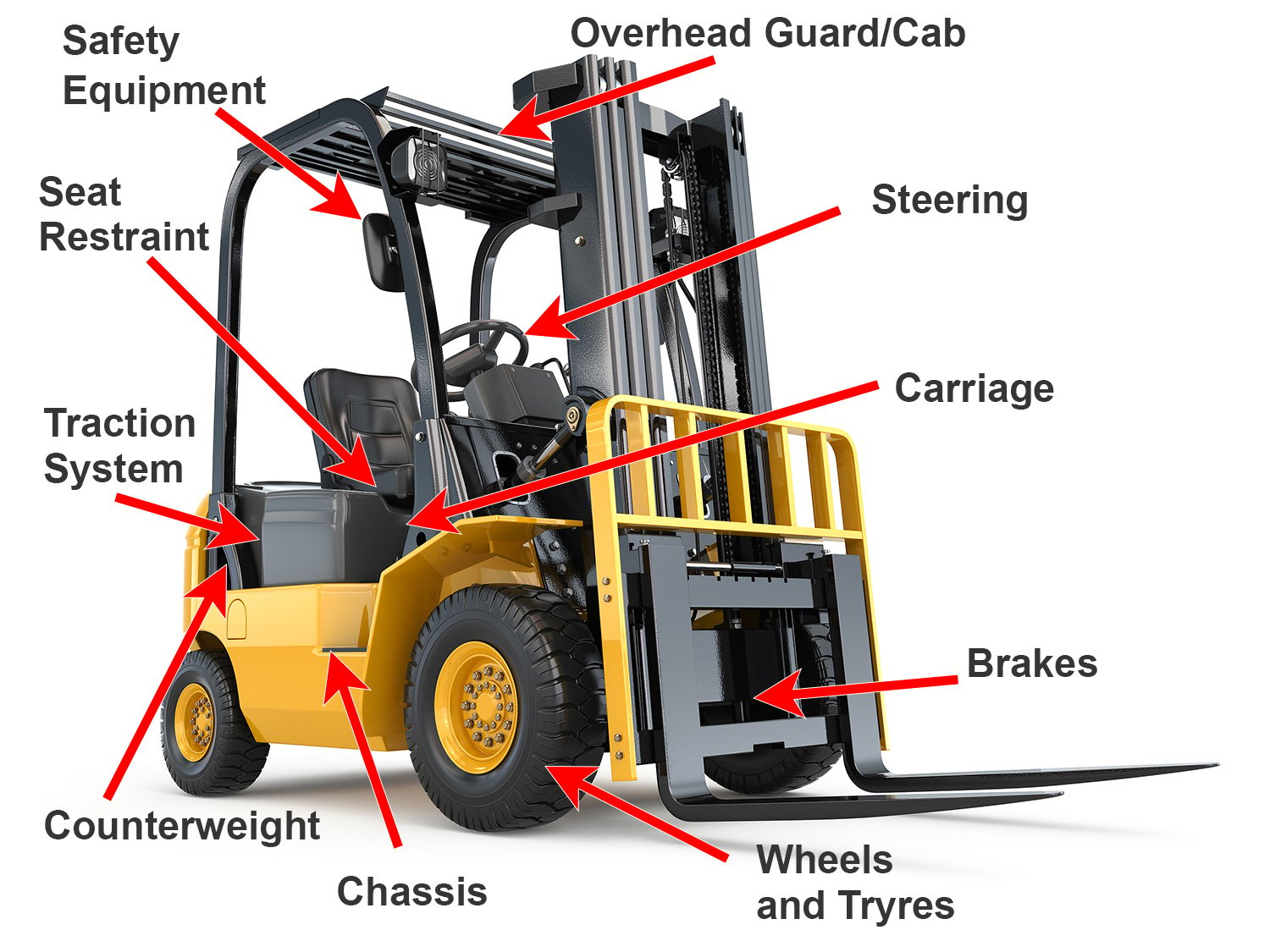 Overhead guard or cab
The overhead guard or cab must be securely mounted and structurally sound to protect against falling loads. Any transparent screens must be clear and undamaged.
Steering
The Competent Person will inspect all mechanical and hydraulic components for damage, wear, corrosion and other signs of potential failure. The truck should also be manoeuvred at low speed to check the steering response and operation.
Safety Equipment
Safety systems can only protect workers if they are working correctly. All safety systems should be checked to ensure they are fully operational, this includes visible and audible warning devices, capacity/data plates and safety interlocks such as seat switches.
Driver Seat and Restraint
Any operator seat restraint should be securely mounted and free from damage. The driver seat mounting must be secure, along with the panel to which it is attached. Any seat belt or anti-vibration mounting should be checked for signs of damage.
Traction system
The prime mover and transmission system must be carefully inspected. If the truck is powered by an internal combustion engine (diesel or LPG), the exhaust system must also be checked. If it is an electric forklift, the battery and connections must be checked.
Brakes
All service and parking brakes must operate as expected and be able to show this with a slow drive test. Inspection covers hydraulics/ pneumatics, mountings, cables, linkages, pedals, levers and controls.
Chassis
The chassis should be inspected for signs of damage and cracking in welds.
Wheels & Tyres
Wheels and their assemblies should be in sound condition and securely fixed. Tyres must be checked for the correct specifications and inspected for wear, damage and bonding failure. Composite wheels and tyres must be a correct combination, suitable for the truck and application. Wheel bearings must also be inspected.
Counterweight
The counterweight must be securely fastened and checked for damage, along with any other structural components and mountings e.g. for fluid containers, axles, and batteries.