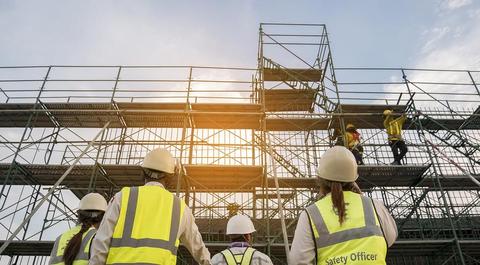 In recent years the number of fatal work-related injuries in the UK has thankfully remained relatively low, yet the rate of deaths in construction is still 4 times higher than the average across all industries. Scaffolding work is an integral part of construction projects, 65% of the construction industry work on scaffolds frequently. Safety inspections play a key role in managing the inherent risks of scaffolding work.
What legislation and guidance governs scaffolding inspections?
The main legislation governing scaffolding safety is the Work at Height Regulations 2005. The HSE also recognise the National Access and Scaffolding Confederation (NASC) advice: SG4:15 Preventing Falls in Scaffolding Operations. Scaffolding inspections are a legal requirement for all scaffolding under the Work at Height Regulations 2005.
How often should scaffolding be inspected?
To meet the requirements of the Work at Height Regulations 2005, scaffolding should be inspected:

After installation /prior to being used for the first time
At least every seven days thereafter
Following any circumstances which could jeopardise the safety of the installation such as adverse weather conditions. So even if a scaffolding structure was inspected just the day before it should be inspected again if for example there were high winds overnight or reports of event such as an earthquake in the region
What is a scaffolding inspection?
A scaffolding inspection is a careful examination of any erected scaffolding to ensure that it is safe to work on for both the safety of construction workers and passers-by. A written report is required for each inspection, noting any defects or matters that could give rise to a risk to health and safety and any corrective actions taken, even when those actions are taken promptly, as this assists with the identification of any recurring problem. The report should be retained on site until the next inspection is undertaken. Once construction work is complete, reports should be retained for a further three months.

The following information should be included in every scaffolding inspection report:

Name and address of the person for whom the inspection was carried out and the name and position of the person carrying out the inspection
The location and the date and time
A description of the place of work or where the work equipment was inspected
Details of defects or anything identified during the inspection that could pose a risk to the health or safety of any person and any action taken to remedy this
Details of any further action considered necessary
The scaffolding inspection procedure should involve a rigorous assessment of scaffolding parameters (e.g. posts, frames, base plates, footing), appropriate scaffolding materials, guardrails and mid-rails, distance from power lines and possible faults in planks. An extensive scaffold inspection checklist can help outline these necessary steps to ensure every aspect of the scaffold inspection is covered.
What is a scaffolding tag?
Although tag systems are not a legal requirement, it is an established safety practice. A scaffolding tag is physical sign/indicator that is placed onto erect scaffolding, usually on key access points, showing the scaffolding has been inspected and is safe for use. A safety tag will also record information about the last inspection. A tagging system will usually be based on a red and green status :
Red Tags
This indicates that the scaffold is unsafe or that it is an incomplete scaffolding structure and therefore it should not be used
Green Tags This indicates that scaffolding is safe and ready to use, so construction work and repairs can go-ahead
Who should complete the scaffolding inspection?
HSE guidance requires that scaffolding inspections should be carried out "by a competent person whose combination of knowledge, training and experience is appropriate for the type and complexity of the scaffold." The default competence is widely held to be a Construction Industry Scaffolders Record Scheme qualification.
A non-scaffolder who has attended a CISRS scaffold inspection course could be deemed competent to inspect a basic scaffold structure; however, a more complex structure should be inspected by a CISRS Advanced Scaffold Inspection card holder. Scaffolders holding the appropriate level of CISRS qualification are also permitted to inspect scaffolding.

In most cases, scaffolding inspections are part of the service provided by scaffold erectors/companies; however, when this is not the case you can hire an independent inspection service or train one of your workers to fill that position.
Are scaffold handover certificates a legal requirement?
The scaffold handing over certificate is used when a scaffolding contractor hands over a completed scaffolding construction for first time use. Ideally, the handover should be between a representative of the scaffolding company and the contractor/client. Whilst not a requirement by law, the certificate has significant benefits for both parties. The completion of the handover certificate ensures the scaffold is fit for purpose and highlights any limits such as the maximum loading and can be considered the first inspection of the scaffold.
Don't forget the ancillary equipment and accessories
In addition to the actual scaffolding structure, ancillary lifting equipment should also be maintained and inspected. SG9:15 Use, Inspection & Maintenance of Lifting Equipment and Accessories for Lifting in Scaffolding from the NASC provides guidance on selecting, managing, supervising and using lifting equipment and accessories for lifting. This includes the proper inspection and maintenance arrangements required :
All lifting equipment should be used, examined and inspected in accordance with the requirements of the Lifting Operations and Lifting Equipment Regulations (abbreviated to 'LOLER'). All lifting operations involving lifting equipment must be properly planned by a competent person, appropriately supervised and carried out in a safe manner.

Where lifting equipment is also Work Equipment, the Provision and Use of Work Equipment Regulations (PUWER) also apply, including regulations for inspection and maintenance. All accessories for lifting should be inspected by the user prior to first use and thoroughly re-examined within every twelve months (six months for equipment which lifts people).