If you're a health & safety professional within the intralogistics and material handling profession and are looking to bring some fresh, forward and safe-thinking to the factory or warehouse, then was IMHX 2016 the place for you? SG World, who exhibited their pre-use inspection solutions at the show, investigates...
Taking place every 3 years, IMHX sees key players in the logistics and material handling world gather together to share best practice, new ideas and bring some fun to the intralogistics world.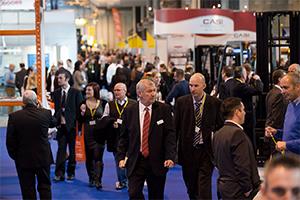 Picture source: SHDLogistics.com
The Fun and the Fabulous
With more to see and do than ever before, fun exhibitions included impressive displays of world-class racing cars (Linde showcased a Bloodhound SSC) and synchronised dancing pink forklift trucks (Combilift's great show can be watched on Twitter). Not only that, but RTITB also held their Operator of the Year competition and attendees even had the chance to have a game of old-school Scalextric (Investec).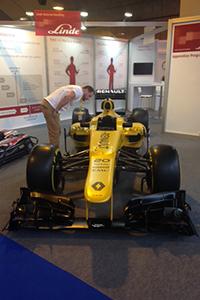 Above: Linde's Bloodhound SSC exhibit
SG World also brought some fun to the show with their Spot The Difference challenge, where participants were asked to spot the difference between two fabulous miniature Linde forklift trucks (more affectionately known as Freddy and Flo by the end of the week). But more on that later...
Getting the Job Done
Putting the fun to one side, IMHX also showcased the solutions, products and services that would help attendees get the job done. As well as FLT, MEWP and other heavy machinery exhibits, there were impressive demonstrations of the latest innovations in conveyer belts, packaging and production lines.
Attendees also enjoyed some engaging and interactive visitor seminars and attractions. The Future Skills Zone was on-hand to highlight the many career opportunities available to young people in Britain's booming logistics industry, and even included a special 'walk-through apprenticeship experience', where attendees were challenged to complete hands-on activities typical of apprentices in the logistics field. Seminars also included topics on saving money with carriers, safety on the road and forklift safety training. Some of the biggest names held the seminars, including Eddie Stobart (who presented 'Optimising your logistics & warehousing operations with Combilift MHE') and DHL (who presented the 'DHL & Transaid: Combining employee volunteering & driver training experience to improve road safety').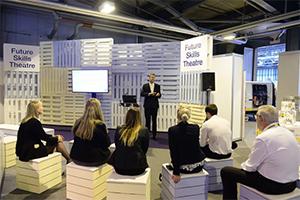 Above: The Future Skills Zone Theatre
A Health & Safety Presence?
But what about a health and safety presence at the show? Despite not being the main agenda of the show and attendees primarily being from operational backgrounds, an understanding of the importance of health & safety could be seen amongst attendees and exhibits. As well as SG World providing their pre-use safety check solutions, other companies exhibited safety solutions such as barrier systems (A-Safe UK Ltd), vehicle/personnel warning and alert systems (ZoneSafe) and other safety solutions and groups. SG World spoke to machine operators and company directors alike, who all shared the notion that safety must always be clear, visible and easy to implement during the working day.
Going back to SG World's Spot The Difference challenge with Freddy and Flo, when asked if attendees could spot the difference between the miniature forklift trucks, the resounding answer from attendees after a good dose of searching, was 'no'. So was the challenge simply very difficult, or was there a more important message to take away from SG World?
Above: SG World's Spot the Difference exhibit
Richard Nichols, SG World UK Sales & Marketing Director, explained: "We attended IMHX to remind people that you often can't tell a safe-to-use FLT from an un-safe one just by glancing at it. A thorough, well thought-out pre-use inspection system, which also clearly indicates a machine's safety status, should always be used. Only then can we truly 'spot the difference' between a safe FLT from an un-safe one."
Furthermore, SG World's Pre-use Inspection Systems were advocated as 'really easy to use' by a superstar FLT operator at IMHX. Philip Contento, an FLT Operator from Convatec, entered the final heat of the RTITB Operator of the Year Competition at IMHX; he popped to see SG World before his heat and let us know how simple they are to use. Incidentally, Philip won the final heat of the RTITB Operator of the Year competition – proof that the best-of-the-best are using SG World's effective, simple-to-use inspection systems!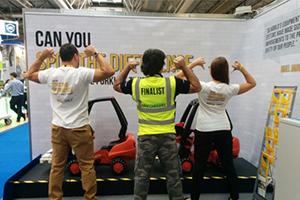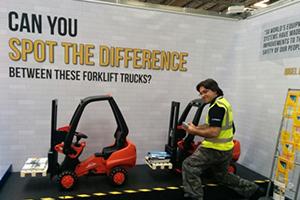 Above: RTITB Operator of the Year heat winner Philip celebrating his win with SG World, and using SG World's Pre-use Inspection System on the minitaure FLTs.
A Show for Health & Safety Professionals?
So, was IMHX 2016 the place for health and safety professionals? SG World had a great time at the show and it was clear from speaking to attendees that health and safety is always on people's minds, whether they're from an operational or safety background. Attendees would have seen mainly operational services and products, with a sprinkling of safety specific solutions. On the whole, if you are a health and safety manager who is interested in intralogistics and material handling equipment as a whole, then IMHX 2019 will be worth a visit. If you are looking for health and safety solutions specifically, SG World recommends a more focussed health and safety exhibition.
SG World attend lots of exhibitions and shows throughout the year and are always looking forward to meeting new people and customers alike. 'Like' our pages on Facebook, LinkedIn and Google+ and we'll let you know next time we'll be at a trade show near you. See you soon!