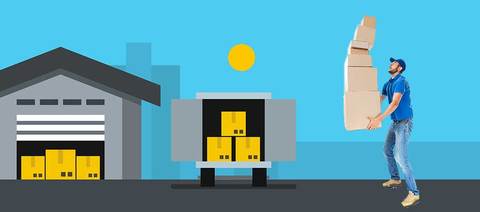 The Workplace (Health, Safety and Welfare) Regulations 1992 place duties on employers to ensure that the workplace is safe and maintained in good order. Slips and trips are a key safety area covered in the HSE HSG76 Guide to Warehousing and Storage, and whilst the subject may not be as dramatic as a forklift truck collision, the statistics indicate that workers who slip or trip are sustaining serious injuries. Around a quarter of major injuries (broken bones, injuries requiring hospitalisation for more than 24 hours etc) in the warehousing industry are caused by workers slipping or tripping.
If your company has a warehousing facility you have a duty of care to put safety measures in place to prevent slips and trips, these fall into three main areas:
Planning and Maintaining your Space
Organise your facility with safety in mind so it is fit for purpose and well-maintained.
Provide good lighting
Keep your warehouse in a good state of repair - eliminate holes, cracks and uneven surfaces in floors inside buildings and work areas outside buildings...and do it promptly!
Check that goods have a place to be stored out of walkways – even when its busy.
Store goods safely so they don't cause obstructions - loads should be placed evenly and properly positioned, heavier loads must be stacked on lower or middle shelves. Always remember to remove one load at a time.
Look at your logistics workflow to check goods and equipment aren't being left in areas where people need to walk.
Identify your warehouse walkways and clearly mark their boundaries making sure they are free of obstructions such as pipes and electric cables.
Clearly mark obstacles that cannot be eliminated.
Pay particular attention to areas on or near stairs, steps, escalators and moving walkways, emergency routes, doorways, corners, junctions or gangways
Floors in and around warehouses should not be slippery, talk to a reputable floor manufacturer to understand different floor types and source a product suitable for your environment.
Non-slip strips on the nosings of steps can be used to reduce the risk of slipping. Secure them well.
Provide effective drainage in areas where it may get wet and ensure any drainage or channel covers are as flush as possible with the floor surface.
If you are dealing with potentially hazardous material, maintain appropriate protocols and ensure that such materials are stored safely and clearly marked so that there's little risk of spillage.
Good Housekeeping
A clean, tidy warehouse is a safer warehouse. Keep it clutter free and prioritise cleaning up spills before anything else.
Regular cleaning to remove contamination from floors helps reduce slip and trip accidents.
Materials that fall onto traffic routes should be cleared as soon as possible and spillages should be cleaned up immediately.
Always have staff available to clean up spills when contamination levels are at their worst.
Plan waste disposal to ensure waste items do not accumulate on the floor or walkways – even small items can present a risk.
Pay close attention to water, oil, cleaning products, dry powders, foodstuffs, polythene stretch wrapping and plastic bags which can all contaminate the floor and cause it to become more slippery.
Have systems in place for checking, reporting and dealing with leaks including checking goods for leaks on arrival.
To keep people out of an area which is wet from being cleaned, use barriers, clean during quiet times, or clean in sections so there is a dry path through the area. If it is not possible to clean the floor to dry, use barriers or warning signs to keep people off the wet area.
. . . however be aware that warning signs and cones do not always stop people from walking on a wet floor. If the hazard is not visible, or if they are left out continuously, they will be ignored.
Stop outdoor contaminants getting indoors and onto floors that can become slippery when wet e.g. by providing entrance mats to dry wet feet.
In the winter months, make arrangements to minimise risks from snow and ice. This may involve gritting, snow clearing and closure of some routes, particularly outside walkways, yards or gantries.
Establish a Positive Safety Culture
Communicate the dangers of slips and trips to avoid complacency and encourage safe working in your warehouse.
Arrange adequate supervision to ensure good practice, regularly inspect the warehouse to ensure that there are no trip hazards and feed back performance to staff.
Involve employees in analysing the risks and agreeing the control measures.
Provide training for employees, including temporary workers, on the key measures to prevent slip risks.
Give the training and resources to ensure staff are not rushing around, distracted or tired – this is when accidents can happen.
Ensure that suitable footwear is worn but remember this should only be considered as a last resort; try to eliminate the root of the problem first.
When selecting footwear, remember the importance of a good fit, a tread which makes good contact with the floor and doesn't clog and a sole that works well with your floor surface. Also remember not all safety footwear is slip-resistant.