Regular news updates from the HSE give health and safety professionals a growing case history of precedents for unacceptable working practices, resulting in warnings, fines and potentially prison terms. The most common prosecutions centre on the employer failing to provide the right training or equipment to its employees or the employee then not correctly using the resources provided. However a smaller but very important body of cases looks at the relationship between the employer and the contractor, sending out a clear message that contracting out a job does not mean contracting out your health and safety responsibilities. If an accident happens on your premises you have a basic duty to check that contractor is working in safe conditions.
One of the latest high profile cases featured Allied Domecq, global drinks maker. Earlier this year a roof contractor employed and outsourced by Allied Domecq, was involved in a fatal accident where he fell six metres through a fragile skylight at a warehouse in Kent. When referring to the incident, HSE inspector Guy Widdowson, found that no health and safety measures had been put in place to prevent the accident, 'there were no crawling, scaffolding boards, harnesses or nets' and astonishingly none of the above had been used for the past 9 years. Importantly, he also added that Allied Domecq, as the warehouse owner, 'could not contract out its health and safety responsibilities just by outsourcing the roof work, the company should have shown more responsibility by making sure the risk assessment was relevant and adhered to.' Allied Domecq were ordered to pay £276K.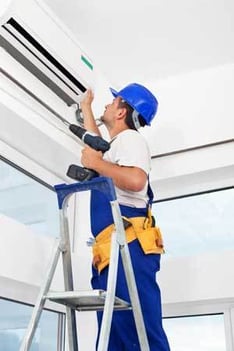 In May 2013 concrete prefabricator Febrey and Carillion Construction were convicted under the Health and Safety at Work Act for the fall and subsequent death of a self-employed scaffolder contracted in on the Meridian Quay development. The HSE investigation found that Carillion was made aware of and had detected many failings in the safety management of Febrey. But it failed to get the firm to make improvements. The preceding judge said: "No one took ownership of the issue . . . It was against that background and in that culture that the accident happened." Carillion were ordered to pay out more than £180K.
There are a number of ways a company can demonstrate it is managing contractors on site. For example the contractor can be issued with an authority-to-work pass, an act recommended in the HSE guidance, Managing Contractors HSG159. The pass should contain details of where the contractor is due to be working, what they will be doing whilst on site and if they require a permit-to-work.
Permits to work help a company provide a record of health and safety compliance by creating a written record that demonstrates contractors or employees carrying out high risk activities have completed a safety check list or risk assessment before beginning work each day, and are undertaking work with the right safety or personal protective equipment. Using the Allied Domecq example, adopting a permit to work system should have identified that the contractors did not have the correct equipment to be working at height. Where a contract is working on a job on site involving working at heights, confined spaces, hazardous substances, hot work and electrical work it is advisable to consider a Permit To Work.
Russell Barnard, SG World Product Manager said: "It's a real concern for businesses that you could have the very best health and safety measures in place for your own workforce and be left completely vulnerable to the actions of a contractor. If an accident occurs it's your reputation on the line and the HSE will investigate the way the contractor was being managed. Obviously you don't have the same degree of control over contractors as your own employees but there are processes you can put in place to demonstrate you are managing contractors on site and have a basic understanding of the type of work and associated risks they are taking.
SG World's Authority to Work and Permit to Work solutions are key tools for businesses looking to implement well thought through contractor management processes."